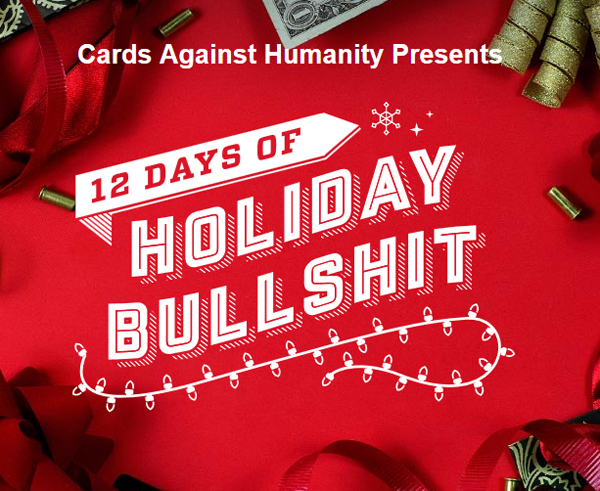 I was first introduced to Cards Against Humanity this year and found the game horrifying, degrading, offensive… and absolutely made just for me.
It started out as a normal game night with a few abnormal friends. "We're playing Cards Against Humanity tonight, come by!" they urged. "What's Cards Against Humanity?" I ask.
"The greatest card game you have ever played," was the answer I was given.
And it was. Cards Against Humanity reminded me of how I used to play Mad Libs by using the most disgusting, sexist terms, because that's what boys hitting puberty do: cope with the idea of sex by writing the words "penis" and "vagina" as much as possible. Who cares if the sentence didn't make sense in Mad Libs? "John Travolta" was going to "f*ck his sh*tty d*ck with a sh*tty p*ssy" because that's the way the words landed.
That's really what Cards Against Humanity is: a group game of X-rated Mad Libs with a bit more wit.
Now, the good people of Cards Against Humanity have released a treat for only the bravest derelicts. It's called "12 Days of Bullshit" where, for $12, they will send you 12 gifts over 12 days starting in early December.
What will the gifts be? Will I be receiving bloody boogers in the mail? Phone bills for interracial midget donkey porn? 12 addressed and stamped envelopes featuring my name on a sticky label? I've never been so excited for the holiday season!
Because I'm a glutton for punishment, I signed up,  will be documenting each and every gift I receive by Cards Against Humanity. At the very least, this means they'll probably give me good shit, right? The world is watching, guys.
They even asked me what I wanted from Santa, so I told them, in true Cards Against Humanity form.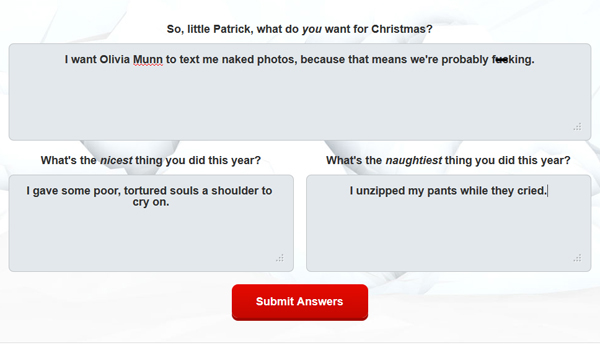 Want Cards Against Humanity to send you some holiday bullshit? You can sign up HERE. It's limited because, seriously, how much crap can one company send out to the world?
*DISCLAIMER* If Cards Against Humanity ends up sending you AIDS, this site will not be held liable, because we will be in the same boat you're in. High five!