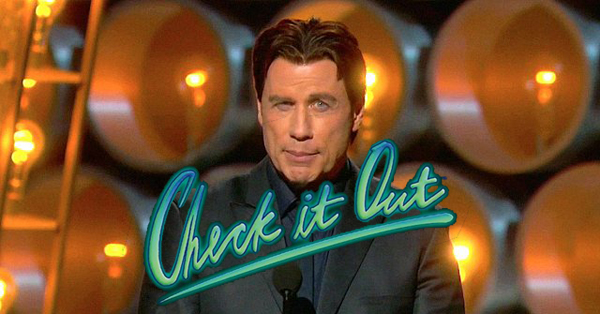 Los Angeles, CA— After almost a week of mockery on the internet and in the media, John Travolta finally spoke of his mispronunciation of Frozen singer Idina Menzel's name as Adela Dazeem in an attempt to apologize to Menzel and fix what is left of his good name.
I've been beating myself up all day," Travolta wrote in a press release. "Then I thought…what would Alicia Deeza say? She'd say, 'Bet the show, bet the show!' Amelia is incredibly talented and I am so happy Frasier took home two Omars Sunday night!"
While it took some reporters hours to decipher the message riddled with even more mistakes than before, including the mispelling of the name 'Adela Dazeem' that Travolta replaced Menzel's name with, it was finally confirmed that, yes, John Travolta was apologizing.
"A lot of people have always criticized John for his speaking abilities, saying, 'He's a step away from Sylvester Stallone' and 'Is he always drunk?'", stated publicist R. Lonnie Buhard. "But this public apology proves that he just doesn't know what the hell is going on."
Still, some critics believe that John Travolta may actually be honoring the work of John C. Reilly as Dr. Steve Brule, who was not considered for an Emmy for the past 3 years in the show "Check It Out! with Dr. Steve Brule" nor an Oscar for his role in Tim and Eric's Billion Dollar Movie.
"I don't know if Travolta is that witty," stated Buhard. "But I'm sure there's a couple hundred dedicated Adult Swim fans that now hope he is."