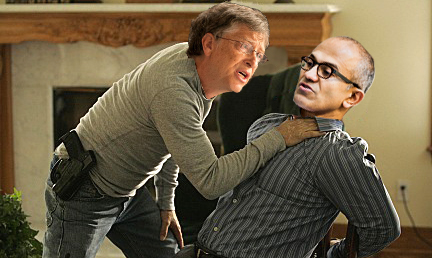 Seattle, WA: For six years, Microsoft co-founder Bill Gates was content to change the world through charity and philanthropy, leaving his multinational corporation in the hands of more business-minded individuals. Now, with Microsoft trying to play catch-up in an industry that the company helped evolve in the 1990s, Gates has returned as a "product and technology adviser," and he isn't too happy.
Upon his arrival at the Microsoft corporate campus, Gates allegedly dragged the current CEO, Satya Nadella, into a room and began threatening his life if he didn't tell him who was responsible for Microsoft's decline. Upon remembering that Nadella had only just been appointed, Gates released Nadella and began interrogating any executive, systems analyst, and programmer that came into his path as he hunted for information on the whereabouts of former CEO Steve Ballmer. The interrogations allegedly ranged from threats, pistol-whipping, waterboarding, and injections.
"I heard that Mr. Gates had a lot of free time on his hands, but I never would have thought he would pair up his charity work with learning the interrogation techniques of Black Ops personnel," stated a shaken programmer, Nathan Whimsey.
It is unclear whether Gates will eventually calm down and begin his work as a product and technology adviser, or that he had given himself the title "adviser" to mask the painful advising that he would give to Microsoft employees that helped cripple Microsoft.