Welcome back to another entry of In Case You Wish You Missed It, the news you wish wouldn't happen but, somehow, does.
With the 2016 presidential election winding down, candidates Donald Trump and Hillary Clinton are doing their best to saturate our eyes in the hopes that something, anything, will click to make us want to vote for them and not just be voting against the other candidate.
One of the latest spins on the Donald Trump Hype Train happened this past Saturday at a rally in Reno, NV, where it was perceived that a protester was actually a highly trained assassin sent by Hillary Clinton herself to take out Donald Trump. At least, that's what I heard the Trump Camp was going to release.
The truth behind the "assassination attempt" is that an unarmed man named Austyn Crites was holding up a sign with "Republicans Against Trump" written on it. Trump supporters got agitated with, someone yelled, "gun," and Trump was rushed off the stage. Luckily, George Zimmerman was not present during the altercation or else there may truly have been something to write about on this incident.
But people found something to write about anyway. Someone yelling, "gun," turned into online reports that Crites allegedly had a gun. A random Tweeter and Trump supporter made a comparison joke about the candidates to show off Donald Trump's bravery in the face of nasty signs.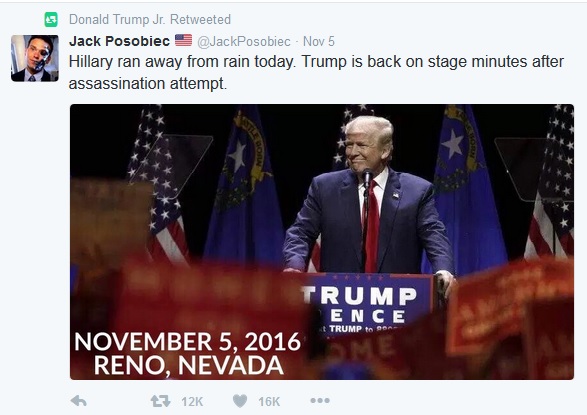 I'm all about giving a Twitter joke a shot, but Donald Trump Jr. himself retweeted this. I would think that Don Jr. would have a little more knowledge about the situation than a random Tweeter trying to bolster followers, but who am I to judge the validation of anything a presidential campaign has to say?
Trump's current campaign manager until they stop paying her, Kellyanne Conway, attempted to defend the retweeting, telling CNN that ""If you're Don Jr. and you're on a live TV set while you're watching this unfold, it's pretty rattling to think of what may have happened to your father, so I'll excuse him that."
What Conway apparently isn't excusing Don Jr. of is tweeting in the midst of a possible attempt on his father's life. You can't spin it both ways.