I don't go to many film festivals. This may have to do with the fact that my ass-bone cramps up after
sitting around for two hours, which leads me to fidget in my seat for a few minutes until the pain subsides. So, doing this for 7 hours straight wouldn't exactly be the greatest thing for me. This is why I would hire writers. Writers would go do these press covers because I was paying them. Unfortunately, I pay in hugs and hair strokings, and that not only gets me waved off when I have a project, it also helps get restraining orders placed against me.
However, the New York City Horror Film Festival is another breed of festival, because instead of being stuck in a room of producers and maybe a stunt-man from the movie you've watched, you are in a room of artists, with maybe one suit flying around to make sure people are using coasters for their drinks. I went one night, for the screening of the original A Nightmare on Elm Street. Here is the play by play of that night.
8:15pm
Took the subway to Tribeca. Not because Mayor Bloomberg says I should. Traffic is horrible at 8:00pm on the weekend, and a subway car was practically waiting for me.
Got above ground, and flipped on my phone's GPS to find Tribeca Cinemas. Because that's the smart "I don't remember where I am" way to find directions.
8:30pm
   Walked in a big-ass circle after following GPS, which put me in the Hudson Bay at one point[the GPS did. I'm not that dumb. Usually]. Ended up back at the subway entrance. Looked across the street to see Tribeca Cinemas.
Contemplated testing the protective capabilities of my phone cover.
8:35pm
Got to the theater's lounge. Empty as expected, since a film was in session. Ordered first Tang and tonic.
Saw Monique Dupree and SAINT chatting with someone I didn't recognize. Made note to find them later. Found Frank Sabatella, learned he was helping run this shin-dig.
Put drink into prerequisite plastic cup. Went into the theater to catch the rest of whatever movie was playing.
8:40pm
The movie ends up being Ticked-Off Trannies with Knives.
Asked Frank important questions, like if they are transvestites or transsexual. He says they have dicks and tits. Question answered.
Movie starts off like a cross between Pink Flamingos and The Doom Generation, ends up being a transgendered version of Kill Bill. I ask Frank if one of the trannies is Sammy Capulet from Tromeo & Juliet. Franks says he doesn't know [after research, it turns out that Sammy Capulet is James Gunn, who is NOT in Ticked-Off Trannies with Knives, surprisingly].
Drink #1 completed, along with this movie.
9:50pm
Out of the theater, bump into Monique Dupree and SAINT. SAINT recognizes me right away. Mo
needs a hint about "bloody boobs" to place me.[side note: Mo recognition=I made it! Cary Elwes recognition=restraining order…on him].
We all get spun around about where we're supposed to be waiting to get into the theater. Friend decides to order a drink when the line starts moving. I partake as well.
End up in a back theater. Turns out, this isn't where Robert Englund will be viewing the movie. He's probably seen the film more than the audience combined.
10:30pm
Show-time! See Frank's Sideshow Pictures promo spot. Almost better than all the shorts combined. The Living Want Me Dead makes me laugh.
Necronomicon would take the cake, if I didn't lose my little voting paper. Promo spot for Robert Englund's Inkubus looks like Ed Gein meets The Watchmen…in a good way.
10:45ish-pm
A Nightmare on Elm Street starts. I curse out the sound guy a few times after going deaf during the
opening credits. Is this how they watched horror movies in theaters back in the day?
10 minutes in, I realize I've seen this movie 6,329,104 times. Prepare myself to wait, because I know Tina and Johnny Depp's death scenes are gonna be awesome. They don't disappoint.
12:45ish-am
Movie is out. Friend wants to hit on the bartender. I want another drink. Win-win.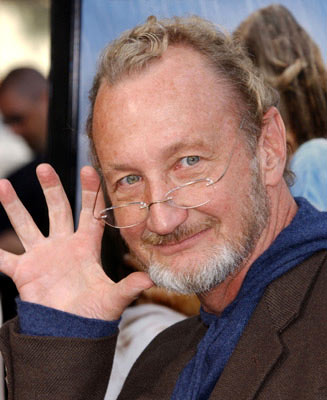 Festival director Michael Hein introduces Robert Englund for a lifetime achievement award. Physical award is MIA, but Robert Englund fills time with a great speech anyway.
Crowd follow Robert somewhere. Hard to tell what they're doing because of the mass of people. Maybe they played a game of Go Fish.
1:15am
SAINT tries to introduce me to The Candyman, Tony Todd. Tony follows a hot blonde into the coat
room, suspending the meeting.
1:25am
Finally meet Tony Todd. Make a quip about how he made me fear public bathrooms for the rest of my life. Awkward silence ensues. Tony whispers to his associate, probably something about keeping this gawky white guy away from him.
Bartender calls my name. Or so I hear. Maybe SAINT threw his voice.
1:40am
Meet a Dutch rapper and producer, Mike Redman, and his girlfriend. Chat about DJ Shadow and Kid Koala. Joke about Americans.
Mike tells me how the Netherlands are trying to clean up Amsterdam's Red-Light District. I make a note to visit as soon as possible. For the culture, of course.
2:05am
Lounge flickers the lights, telling me to finish my drink. Wait outside for 15 minutes trying to hail a cab. Just make 2:24 train. Frank calls it the douchebag train.
2:24am
No fucking seats on the train? Seriously? End up standing for 3/4 of the trip. Frank gets half the train singing some song from Jaws. I scope out some girl that I heard just broke up with her boyfriend.
Yeah. The train was that cosy. No digits.
4:05am
Bed.