Have you lost touch with someone you once held dear? Have you been wanting to reconnect with that special person, but are put off by the invasive record searches offered by most "people-finders"? And what about the cost? There's no guarantee that the unlisted phone number you just paid tens of dollars for is going to be current. Well, we here at SOS have your dear one's privacy – and your budget – in mind!
Introducing Shout-Outs!® from Shout-Out Services. Shout-Outs!® is a revolutionary advancement in reunion services. Supply us with merely the name, age, and last known location of the person you wish to find, and our specially-trained Shout-Service Technicians® will search an extensive public records database to establish that individual's most recently-known whereabouts. Then a member of our Shout-Outs Satisfaction Team® will deliver a highly qualified Junior Representative®
to strategic locations in your special someone's vicinity. Our vociferous 8 year olds will announce your lost loved one's name at timed intervals while trafficking major thoroughfares, supermarkets, office buildings, hospitals, and churches/temples.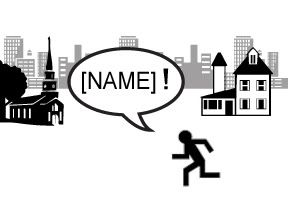 Or upgrade to Shout-Outs Plus®! Be seen as well as heard!
For an additional charge, you can enjoy the deluxe services of our Shout-Outs Super Shout

®

. Find your long-lost college buddy at games, in mall parking lots, on highways and in most areas offering pavement!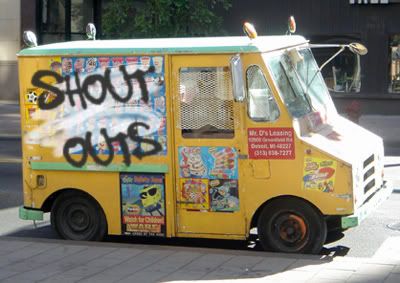 Shout-Outs Super Shout

®
available for one-time service fee covering purchase of van.
Don't sit around wondering what might have been! Give that someone a Shout-Out!

®

today!
by John O'Rourke and Michele Geluso